About us
Cad Toner
was established in 1989 as the first remanufacturer of toner cartridges in Mexico. Today is the leader and largest distributor of remanufactured cartridges and printing consumables in Mexico.
We are dedicated to sell remanufactured ink and toner cartridges with the highest international specifications to produce reliable, consistent, and great value cartridges for businesses and consumers.
Our team

Go Green!
Our business concept emerged from our customers' need to lower operating expenses as well as their concern for the environment by supporting recycling and other green initiatives.
We provide consumers and businesses with an alternative to reduce the impact of the millions of cartridges that are discarded to landfills every day. We help our clients protect their environment by recycling cartridges that otherwise would end up in landfills. We allow consumers to reuse, reduce, and recycle.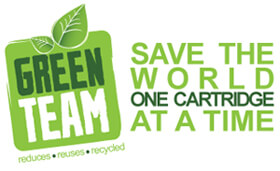 Our Vision
We will become the most trusted supplier of consumables for office printing equipment in Mexico and Texas with the courtesy, experience, and professionalism of our personnel. Our vision guides our actions and propels the big changes in this company.


Our Mission
Representing the best option to save consumers by providing quality products at prices up to 50% less than an OEM's products.


Best customer service
Top quality products
100% guarantee
Success
The secret of our success is:



(1) our firm decision to offer only products that we use and that we know work well


(2) our strong commitment to quality control and technical training for our staff and our distributors, and


(3) our efficient flow of operations. We minimize waste and improve operations to keep reasonable margins without sacrificing quality or customer satisfaction.